If you're living in Florida, you know that there are a variety of tree species as far as the eye can see. One tree species that many homeowners adore is the October maple tree. October maple trees offer a variety of benefits to our environment as well as beauty to our curb appeal.
Are you thinking about growing an October Maple in your yard? If so, you likely have questions about this tree. We're here to provide some advice so you can get plenty of enjoyment out of this tree for years to come.
What is the October Maple Tree?
The October maple tree is a deciduous tree that is native to the northeast and central sections of the United States. In addition to being native to the United States, the October maple tree is also found in Canada.
It is most commonly found as a tree that is planted in residential areas and grows at a moderate rate. They are also seen in urban outskirts and along roadsides. This tree has a rounded canopy and a smooth reddish brown trunk that has a fine, furrowed or scaly surface.
This tree is also referred to as the Acer pensylvanicum, and it is one of the earliest trees to produce leaves in the spring.
They have thick, bright green leaves in the spring time, sometimes turning yellow in the fall. They are sometimes confused with the Sugar Maple Tree, but the October Maple is a little more narrow in shape and has a less pointed leaf. The October Maple tree is also a very fragile tree.
In the fall, October maple trees can be a beautiful sight, with their leaves turning a beautiful shade of red or golden-yellow. The leaves are vibrant during that time of year and very beautiful.
October Maple trees are in certain parts of Florida, including the panhandle.
How to Grow October Maple Trees
If you don't have an October Maple tree in your yard and you're looking to include one, there's good news: these trees are easy to grow! They're very durable and easy to maintain, when you know how to care for them.
Keep in mind, though, that this will take a good 10 to 15 years to reach its full size. If you're looking to plant a new tree or transplant an older one, it's best to plant it in the fall or winter.
Here are some tips for growing October Maple trees:
October Maple trees love the sun.
They will not do well if shaded by buildings, trees or other plants.
The roots of the October Maple tree are best planted about 2 to 4 inches deep.
If planting them in a container or hanging planters, a deep pot or planter is best so that the roots can spread out under the soil.
They prefer full sun and well-drained soil.
The most important thing to do is to find a spot and give the tree some room to grow. They're trees, after all, and they're mature trees, at that – they need room to grow tall and wide. Planting it in a pot is also out of the question, because it will break out of the pot and grow larger. You need to plant it in a spot in the ground.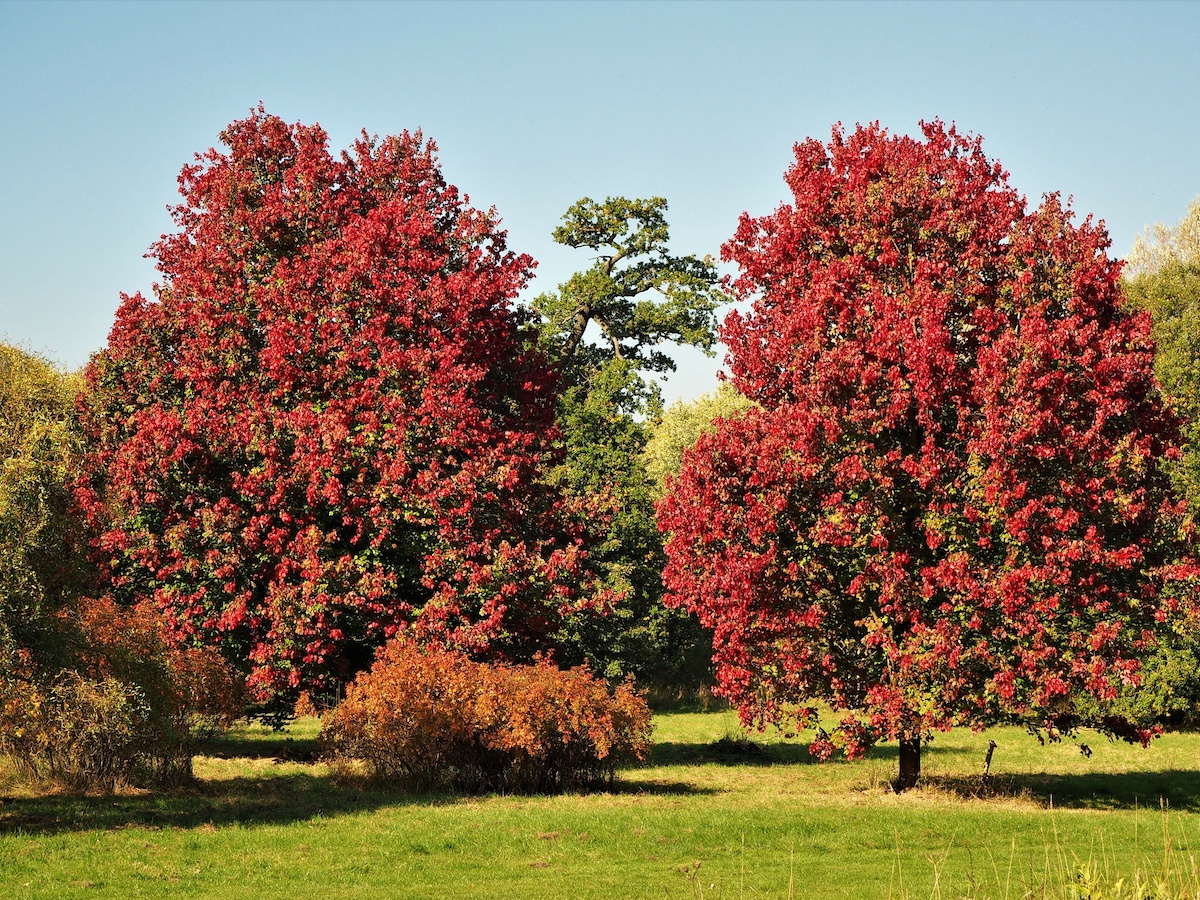 Do October Maple Trees Have Invasive Roots?
Some trees, such as the weeping willow, have problems with invasive roots. Every tree has a different root structure. They grow a certain way to get food and nutrients from their growing location.
If the climate changes, then the tree's root structure must adapt to this change. It is the same with invasive roots. Some trees have invasive roots, but others do not. Each tree has different invasive properties.
Meanwhile, some trees have invasive roots that grow beneath the tree, whereas other trees will send their roots out in all directions.
It is not common for invasive roots to be a problem with any tree. This includes the October Maple, but it doesn't pose as much of a problem as the Silver Maple which has roots strongenough to crack sidewalks. If you are planting an October Maple, you don't want to plant it too close to your home. This can result in many different types of issues with driveways, sidewalks, and even sewage lines.
How Big Does an October Maple Get?
In addition to the root system, you might wonder about the size of an October Maple. How big does the October Maple tree grow? In fact, in some cases, October Maples can grow to be quite large. Some October maples can grow to be more than50 feet tall. Meanwhile, their canopy can reach 35′ at full maturity.
How to Use October Maples in Your Landscaping
October Maples are often used in landscaping for their beautiful colors. But how can you use the October Maples in your landscaping? We will show you how to use them for your landscaping.
The answer is easy! The October Maples' leaves turn such a beautiful variety of colors, they are the perfect addition to any landscaping.
There are three main ways that homeowners use October maples in their landscaping.
The first way is that they are used as ornamental trees. They are placed in the front or back yard to beautify the property. They bring a lot of color to the areas they're planted.
You can use your October Maple as a border since they are fast-growing and also colorful. You can plant a row of these to line your property.
Consider planting a single October Maple to serve as a focal point in your yard. Their silvery bark makes another beautiful attribute to your overall landscaping.
How to Care for October Maple Trees
Once you plant this tree in your yard, your job isn't done yet. You'll need to care for this tree to get the most out of it so it can look beautiful for many years to come. But how do you care for an October Maple tree?
October Maple trees can grow in nearly any type of soil. They don't require special soil and they can grow in just about any type of soil. However, if you're planting in sandy soil, it's best to mix in some compost to make the soil more fertile.
Water it regularly and deeply. You want to water monthly during the growing season and every three to four months in the winter months. You want to water deeply and make sure all the roots are getting wet. Check the soil to make sure the ground isn't dry three to four inches down.
If it gets very hot, which it does here in Florida, you can cover the base of the tree with mulch. This can help prevent drying out the soil.
Pruning Your Tree
Should you prune your October Maple tree?
It depends on the preference of the owner and the quality of the tree. Some people prefer to have neat, tidy, and well groomed trees. Other people like their trees to be natural with a wild, untamed, and bird-attracting look.
Pruning has a plethora of advantages for this tree, such as:
Allows for better control over the growth of the tree, in terms of its form
Promotes more uniform growth
Makes the tree look more attractive
The increased survival rate of the tree and lower risk of disease and pests for trees that are pruned in on a regular basis
Keep in mind that trimming and pruning trees is best left to the professions. this is because there are safety measures and other considerations to keep in mind with tree trimming, such as:
Staying away from powerlines
Not over trimming or over-pruning the tree
Keeping a clear, safe path to and around the tree
Preparing all the right tools such as ladders, rope, and safety harnesses
Keeping children and pets away from the tree
Wearing the right safety gear
Get Help Caring for Your October Maple
If you're the owner or soon-to-be owner of an October Maple, Warner Tree Services is here to help. We provide tree trimming and pruning to keep your tree in tip-top condition. Contact us now to learn more.