Trees are an essential part of any landscape. When planted in the right environment, trees can be a source of beauty and natural shade- some can even provide fresh fruit! But did you know that tree trimming and other actions can help you prevent tree trouble in the future?
The truth is that trees come with their fair share of work. Overgrowth, yard debris, pest infestation, and tree disease are only a few ways the trees on your property can cause a big headache for you.
Luckily, simple upkeep such as routine tree trimming can help your trees stay healthy and unobtrusive. Let's discuss the ways you can maintain your trees now before they cause big problems.
Learn About Common Trees in Florida: What's in Your Yard?
When it comes to avoiding tree trouble, you'll want to become familiar with the trees in your yard. If you have yet to plant any trees and you're looking to add some greenery to your yard, many different types of trees can be found in Florida. Some of the more common ones include:
Pine
Palm tree
Maple
Cypress
Oak
You can easily identify these trees by their leaf shapes and each has unique characteristics and benefits.
Fruit-bearing trees, such as citrus and avocado are also popular with Florida residents. Become familiar with the trees in your yard, including their quirks, so you can avoid trouble down the line.
Carefully Select Where to Plant a Tree
Where you choose to plant a tree can have a huge impact on how your tree will grow and develop. To help you determine what type of tree to plant, you should consider the following things:
Where will the tree be planted?
Will the tree be in partial or full shade?
What is the climate like where the tree will be located?
No matter which type of tree you choose, planting trees in the wrong spot can have serious consequences.
If trees are planted too close to power lines they can cause a fire or electrical hazard. If you are planting a new tree, be sure to plant it far away from powerlines and keep long branches trimmed back for safety.
If trees are planted too close together, they reduce the amount of air given to the soil, which can result in the tree roots weakening over time. The last thing you want is a tree toppling over onto your home, so leave plenty of space between your trees.
Planting trees in the wrong spot can even negatively affect the drainage in the area, which can lead to all kinds of problems such as waterlogging, flooding, and root rot. It can also negatively impact the health of other plants on your property if the soil drains poorly.
Furthermore, planting trees in the wrong spot can cause soil compaction, which can reduce the amount of oxygen in the soil and negatively affect the health of the tree.
Want more trees but don't know the safest place to plant them? When in doubt contact the tree specialists at Warner Tree Service.
Tree Trimming Can Save You Time and Money
Does your tree need trimming? Routine tree trimming is the easiest way to prevent big problems for your home and property.
Falling limbs can cause property damage or injury to your family. Living in an area that's prone to hurricanes and other natural disasters, you are at risk of damage from these occurrences. Keeping your trees trimmed can reduce the number of unwanted branches tossed around by hurricanes.
Many types of damage can be easily controlled by careful trimming and pruning. The best approach is to prune back small branches and branches that are growing too close to the ground or other structures. This can prevent damage to the tree by root intrusion and windthrow. Additionally, removing large unstable branches from trees can prevent them from breaking off and falling onto your structure.
Routine trimming encourages trees to grow stronger cores, which helps them withstand high winds and storms. Trees should be trimmed once a year in the late winter or early spring, but dead or diseased branches should be taken care of right away as soon as they are noticed.
Control Pests in Trees
Deciding which type of tree to plant in your yard requires some pest knowledge as well. For example, many types of citrus trees are popular targets for pests such as scale insects, aphids, and caterpillars. Insect infestations can weaken your trees or even kill them, and it leaves your home vulnerable to pests looking to relocate. Fruit trees can also attract rodents to your property. Be sure to clean your yard frequently and pick up any fallen fruit before it has a chance to rot.
Insects are attracted to rotting wood, so trimming off decaying branches is the best way to ward off an insect infestation before it starts.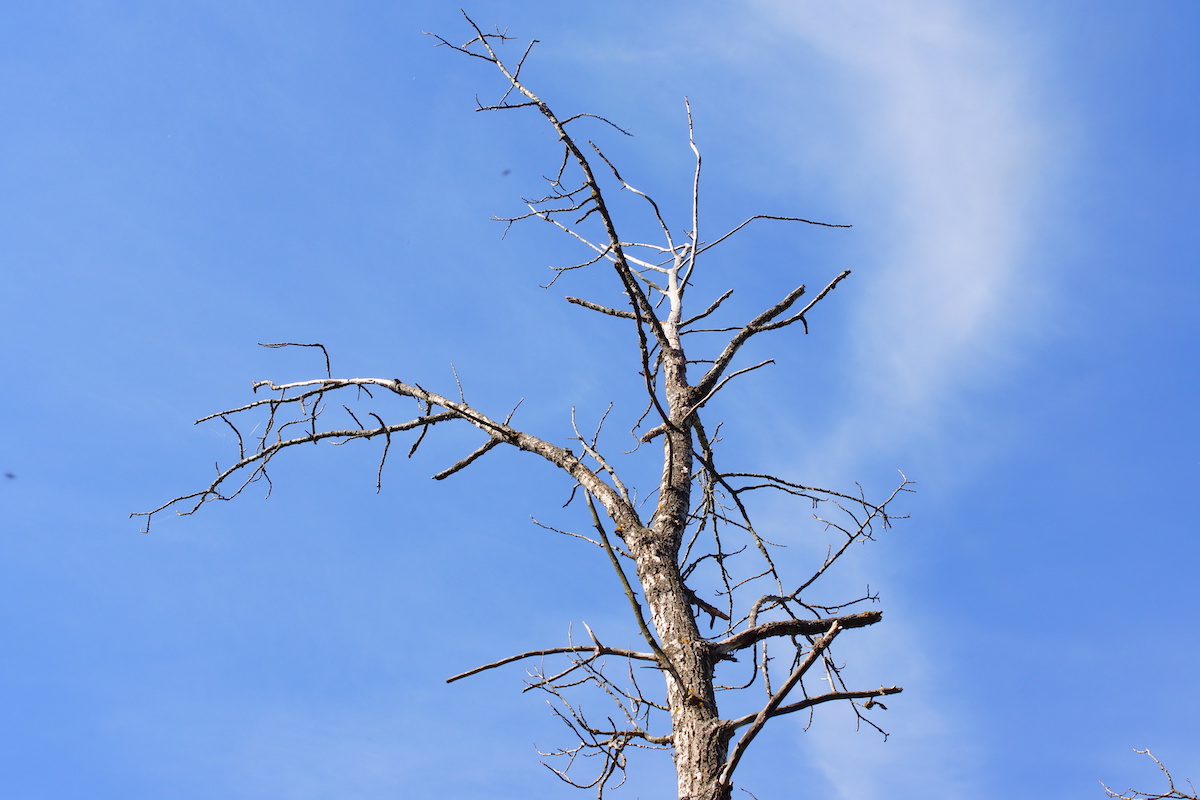 Keep an Eye Out for Sick Trees
Trees are vulnerable to illness and disease just like any other living organism. A sick tree not only becomes less attractive but it can also become weakened and structurally unsound. Sick trees are more likely to fall over or drop large branches, putting your family and property at risk.
The most common tree diseases found in Florida include; Ganoderma, Oak Wilt, Apple Scab, Laurel Wilt, and Fusiform Rust.
How do you know if you have a sick tree on your property? Signs of a sick tree include:
There are weak or dead branches
You find fuzzy and moldy patches on the tree bark
The tree has leaf clusters that don't fit the shape of the tree
Some leaves have defects such as holes
The tree is leaning
Some trees are also more susceptible to disease than others, such as the weeping willow. If you notice that your tree seems sick or infected, it's important to contact a tree service company as soon as possible to prevent those diseases from spreading to other trees in your yard. It's best to call a tree service company before cutting down any sick trees. Keep in mind that some trees will decline more quickly than others.
Routine tree trimming is a great way to keep your tree healthy and help it fight off disease. Trimming off dead or diseased branches keeps illness from spreading and improves the overall health of your tree
When Should You Remove a Tree?
Deciding when to remove a tree can be a difficult decision. Some factors you should consider include the condition of the tree, the size of the tree, the cost of removing the tree, and the cost of planting a new tree.
How do you know when it's time to remove a tree in your yard? Some of the most common reasons for tree removal.
Age: Old trees that are showing signs of deterioration can quickly become a hazard.
Size: Trees that grow too large can cause problems with the tree's structure. A tree that is too tall can be unstable and prone to snapping off branches, causing property damage.
Uniformity: Tastes change, but your home's landscaping should not. Mismatched trees, branches, and bushes can make a yard look messy and unkempt, which will deter visitors and make it harder for your home to sell.
Dead or illness: Dying or dead trees are safety hazards. They can cause property damage if the tree falls on a house or car and pose a fire danger if the tree falls on power lines. Dead trees outside can also pose a safety hazard for children especially when they try climbing in them.
Should You Try To Remove A Tree On Your Own?
Most homeowners probably shouldn't try to remove a tree on their own, as it's dangerous and can result in serious injury. If you do have a tree that needs to come down, contact a local tree service to handle the job for you. They have the proper equipment and training to ensure that the job is done safely and efficiently.
Take Care of Your Trees with Tree Trimming and More
Trees are beautiful to look at and can improve your property in many ways, but a neglected tree can cause a wide range of problems. They can attract pests, develop diseases, damage your home, and interfere with proper drainage. With these problems in mind, it's important to learn how to prevent and manage tree damage.
The good news is that you can avoid these problems with routine tree trimming.
Regular maintenance keeps your trees healthy, decreases the risk of falling branches, and can even increase the value of your home by improving curb appeal.
If you need tree trimming, tree removal, or stump grinding this spring season, reach out to Warner Tree Service for help.