When you think of Florida trees, you probably imagine palm trees swaying in the breeze while tourists stroll along beaches. But there are many different types of trees in Florida. This makes it a beautiful tropical paradise for all to enjoy.
With 80 million trees planted in Florida each year, Floridians know that trees provide countless benefits to the environment. This is including improving air quality and providing much-needed shade during the hottest Florida days.
In this blog, we'll discuss everything you need to know about planting trees in Florida.
Why Should You Plant Trees in Florida?
If you're wondering why so many people plant trees in Florida, consider the following reasons:
Erosion– In a state prone to flash floods, storm surges, and other weather-related disasters, tree coverage plays a crucial role in preventing soil erosion and flooding.
Heat– Shade trees help to keep homes cool during the summer. The dense foliage cast by mature trees creates a "canopy" that shields the ground from direct sunlight. As a result, the air temperature is cooler, allowing us to enjoy more outdoor activities during the summer months.
Air Pollution– The dense foliage cast by mature trees also traps dust and other air pollutants inside the canopy, helping to reduce air pollution and creating a healthier environment to breathe.
Wildlife– Florida trees are a fantastic habitat for many different animals and wildlife.
Beauty– Trees, like people, come in all shapes, sizes, and colors. By planting trees in Florida, you can expect to see more diversity in your landscapes, parks, and green spaces.
Types of Trees to Consider for Florida
Before you start looking for the right type of tree to plant in Florida, you should first consider the soil and environmental conditions where you want to plant the tree.
You should also be aware of the different types of trees that grow well in our state. You can find information about different types of trees and what conditions they need to grow best in the USDA Plant Profile. There, you will also find advice on how to grow different types of trees in Florida.
Some of the most common types of trees in Florida include:
Cypress trees
Live oak trees
Pine trees
Maple Trees
Palm trees
Florida Elm
Flowering Dogwood
Fruit trees are also prevalent here in Florida, which all have their own growing requirements. Check out our blog about fruit trees in Florida by clicking here.
When to Plant Trees in Florida
When is the best time for planting trees in Florida? Now that you know what to look for in a tree, let's look at when and where to plant them in the Sunshine state. There isn't a straightforward answer to this question, as it varies from species to species. However, here is some general advice to consider.
Because of our warm climate, you can generally plant trees in Florida all year long.
When you plant in the spring and summer, you will likely see faster growth.
The fastest-growing trees in Florida include American sycamore, weeping willow, and silver maple. Some of these trees can grow as much as 5 feet per year.
If you plant trees during the fall and winter, the trees will grow slower.
When you're looking to plant fruit trees, do so during the wet season which is between May and August.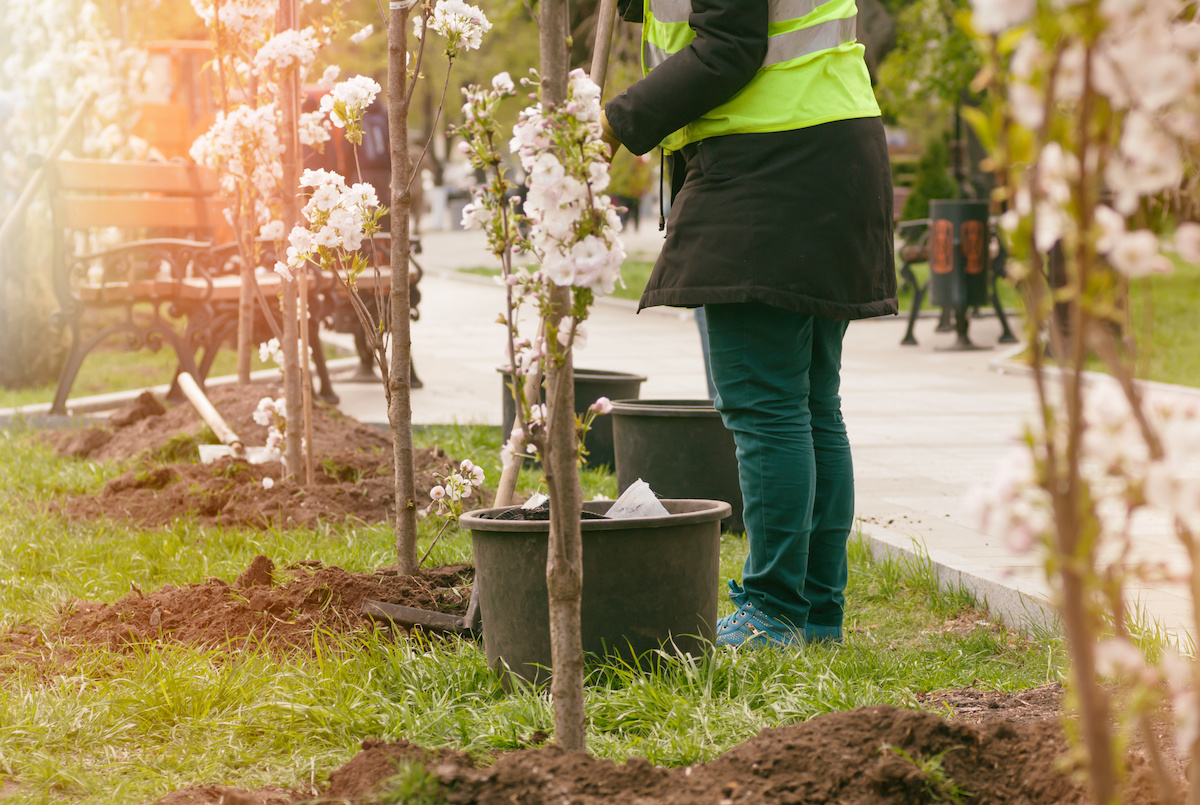 How to Find the Right Place to Plant a Tree
Now that you know about the timing of planting trees in Florida, you'll need to consider the correct place to plant a tree.
It's important to find the best spot to plant a new tree because they can't be moved once they are established. The best places to plant trees are sites with full sun exposure, soil that drains well, and a little bit of protection from strong winds.
Choose a spot that is about 10 feet away from exterior walls. Furthermore, avoid planting a tree where it may interfere with power lines or block a view from a window. Once the tree is planted, be sure to water it regularly to get the best results.
How to Maintain Trees in Florida
Once you have your tree planted in the ground, the fun part begins! You get to sit back and watch it grow into a beautiful shade tree, or perhaps a tall and majestic palm tree. No matter the type of tree you decide to plant in Florida, you don't want to forget about the importance of maintenance.
There are several ways to maintain your Florida trees, such as:
Trimming– Regular tree trimming is important because it helps to maintain the health and appearance of trees, prevents hazards, and reduces the risk of falling branches. This maintenance can be done by homeowners or tree service professionals. Depending on your tree's species and growth rate, you may need to trim it every year or every few years.
Pruning– Trees that are pruned are healthier and more productive. Pruning improves the tree's ability to receive nutrients, light, and water through the tree's twigs, branches, and leaves. It also reduces the risk of tree diseases and pests spreading from tree to tree.
Pruning increases a fruit tree's yield by removing dead, diseased, and broken branches. Meanwhile, it reduces the tree's load and improves its ability to transfer nutrients and light to its fruit or crops. The type of pruning you choose will depend on your tree species, its age, and the reason for pruning.
Observing– You'll want to be on the lookout for signs that your tree is sick. Trees will exhibit signs of illness if they are not receiving the nutrients they need to stay healthy. The most common signs of tree illness are discolored or dropping leaves, a lack of new leaves, shedding bark, or a general unhealthiness in the tree's appearance. If you notice a sudden change in your tree's appearance, it's best to contact a tree service or an arborist for help. A sudden change in the way a tree looks is often a sign that it's not receiving the nutrients it needs to stay healthy.
Get Tree Trimming, Tree Pruning & More from Warner Tree Service
Are you thinking about planting trees in Florida? You're about to set off on a rewarding endeavor that benefits the environment as well as your lifestyle. Once you have your tree planted, you don't want to forget about taking proper care of it. This includes tree trimming and pruning.
Now that it's hurricane season, you'll also want to be mindful of storm damage that can break off large branches or even snap trees in half. No one wants to see the downfall of a large tree, but this is a major consideration this time of year.
When you need tree trimming, tree pruning, or even tree removal, be sure to contact us at Warner Tree Service. We have the experience and expertise to get the job done right. When you need tree services for your commercial or residential property, we can help. Contact us today to learn more about our services and how we can help you achieve the look you want with healthy trees.