In Pinellas County, we have beautiful mature trees located all over our cities. One of the types of trees we enjoy seeing the most is the Live Oak Trees, especially the really old ones that are huge and rich with history. There is a Live Oak Tree that you do not want to miss, and it is located right here in Safety Harbor.
Baranoff Park
The famous Baranoff Oak may be one of Safety Harbor's most famous trees in Baranoff Park, which is located just south outside of the library. This area a great place to sit down and enjoy a book in this historic park. This Grand Tree that is historically registered as the Baranoff Oak Tree is featured in the Baranoff Park.
It is situated on private property between Main Street and Second Street, next to the Safety Harbor Public Library. UCITA Properties Inc. owns the property, but shares it with the city to preserve the tree and allow the public to enjoy the space. Visitors from all around the globe enjoy seeing it and taking photos of the majestic evergreen. Local families have enjoyed this tree for generations.
The Baranoff Live Oak trunk is nearly 20 feet in diameter, and it is estimated that the tree weighs about 800 tons. Experts have said that this beauty is somewhere between 200 and 300 years old.
Named After Salem Baranoff
This beautiful tree is named after Dr. Salem Baranoff, a doctor who once owned the Safety Harbor Resort and Spa. In 1934, the Live Oak Society of the Louisiana Garden Club Federation placed the tree on its historic registry of live oaks, which has been maintained.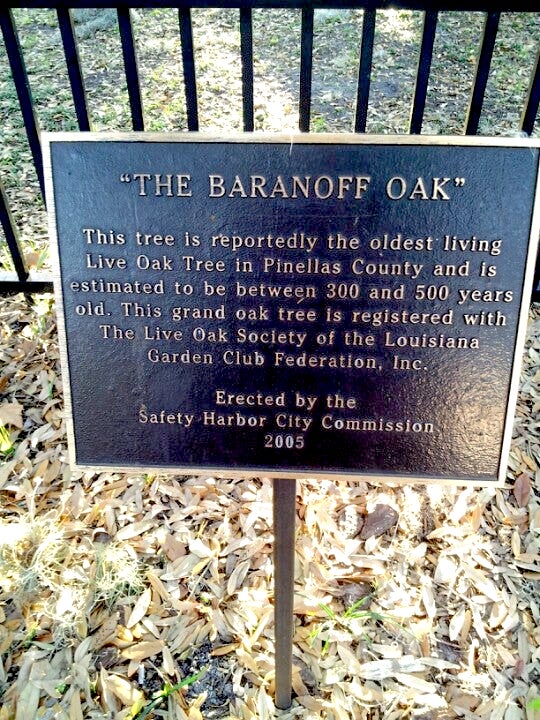 The tree is an impressive work of nature and has seen a lot of history.
In 2004, it became the centerpiece for a public park and was fenced off to be protected. So you can't climb on it.
What is a Live Oak?
A live oak tree "Quercus Virginiana" is named "live" because it is an evergreen oak rather than a deciduous tree that loses its leaves every year.
Guests and locals love visiting quaint Safety Harbor during one of the many festivals, 3rd Friday Series, the Safety Harbor Spa and Resort, the town Gazebo, Safety Harbor City Marina, and restaurants. Make sure to take a look at the tree while you are there enjoying the town.
Need help inspecting your trees for disease, trimming, pruning, or removal? Hire a professional tree expert to take good care of your trees.
Warner Tree Service will help reduce the threat posed by strong wind to your young tree as well as keeping them healthy and properly trimmed.
Let us help you with your trees. Contact Warner Tree Service to consult with Rick Warner, who is an ISA Certified Arborist since 2008.
Warner Tree Service is a family-owned and operated business in Palm Harbor, Florida, since 2007 with an ISA Certified Arborist. We are fully licensed and insured. The services offered with a 100% satisfaction guarantee are tree trimming, pruning and shaping, hedge trimming and shaping, tree removal, crane service, stump grinding, canopy elevation, tree examination, and more. Call us at 727-946-7098 or email warnertreeservice@gmail.com to get a free written estimate in Palm Harbor, Dunedin, Tarpon Springs, Safety Harbor, Clearwater, New Port Richey, Oldsmar, Belleair, and Largo.